Best Collection of Free and Premium Admin Dashboard Templates.

Sublime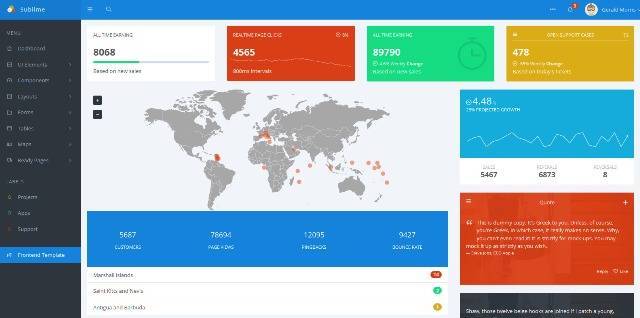 Demo / Download
A full featured, premium web application admin dashboard built with Twitter Bootstrap 3. It comes with a myriad of ready to use components ideal for bulding you web application, CRM, CMS, admin panel, dashboard, or any other type of application backend. Features are Fully responsive, Valid HTML5 and CSS3, Unlimited colors with colors skins, Built with the latest Twitter Bootstrap, Built with less making it easy to modify, CSS3 animations and more.
AppUI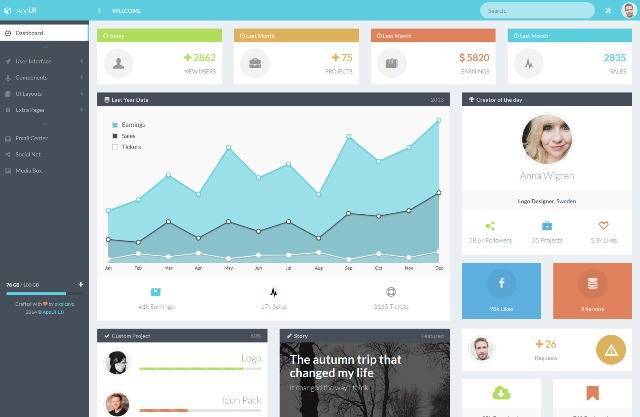 Demo / Download
AppUI is a fully responsive and full featured Web App and Admin Template powered by the popular Bootstrap 3.2 framework. It is built with web developers in mind and focuses on providing a great User Experience with a modern design, fast User Interface and many awesome features.
Chain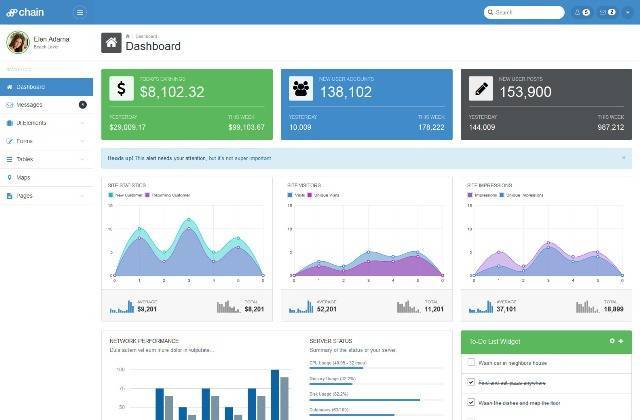 Demo / Download
Chain is yet another Bootstrap 3 Admin Template with jQuery plugins that is perfect for your next projects. It provides an easy to use modern and flat user interface design and a fully responsive layout that is compatible with handheld devices such as phones and tablets. Features are Built using Bootstrap 3, Valid HTML5 and CSS 3, Fully Responsive and Retina Ready, Message Template and more.
Porto Admin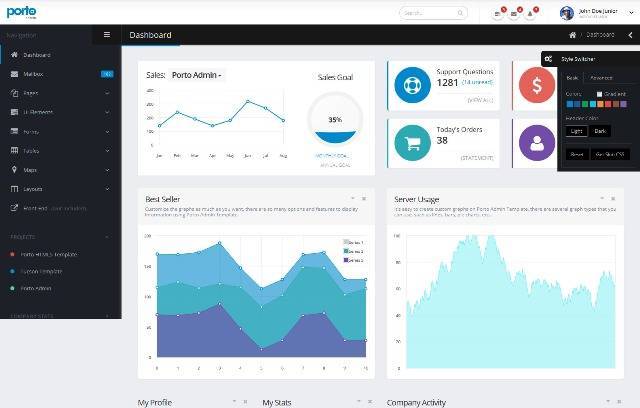 Demo / Download
Porto Admin is a professional admin template, it's fully responsive design ready to look stunning on any device. The template comes with 60+ HTML pages built using Bootstrap 3. Features are HTML5 and CSS3, Bootstrap 3, Fully Responsive, 60+ Template Pages, 50+ Plugins, Exclusive Plugins and Features, Interactive Charts, Google Fonts Support, Style Switcher & CSS Generator and more.
Angulr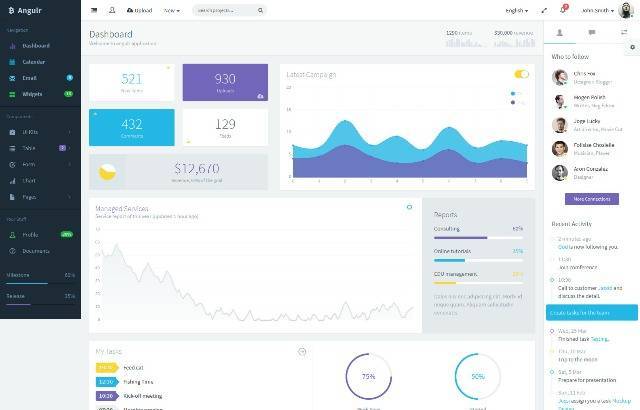 Demo / Download
Features are Built with Bootstrap 3, AngularJS, Nested routing, Nested views, Lazy loading and Less CSS.
Forza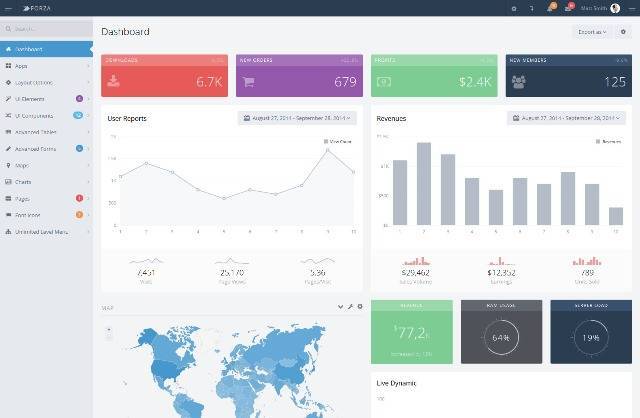 Demo / Download
Forza is a modern, forward-looking web application framework built with AngularJS and LESS. The theme is beautifully coded and fully featured, ready to be implemented in the admin end of your web application, or as an intranet theme. It's also perfect for your next Rich Internet Application.
Rapido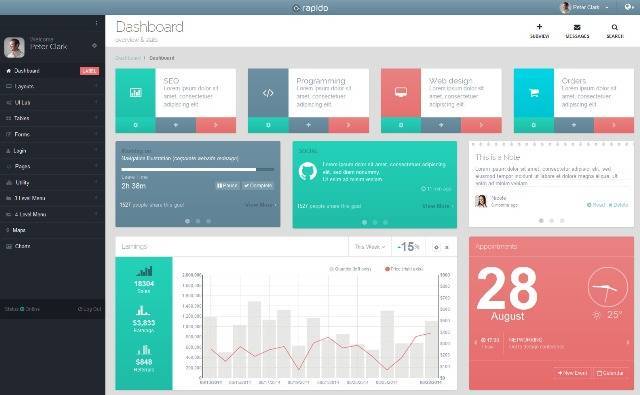 Demo / Download
Rapido is a Responsive Admin Dashboard Theme with 100% Fully Responsive, 100% Fully Customizable, Bootstrap 3.2 Framework, jQuery 2.1.1, 10 Color Themes, Fixed and Default Horizontal Menu, Horizontal Mega Menu, Horizontal and Sidebar Menu, Sidebar Closed Layout, Boxed Page Layout and more.
Rainbow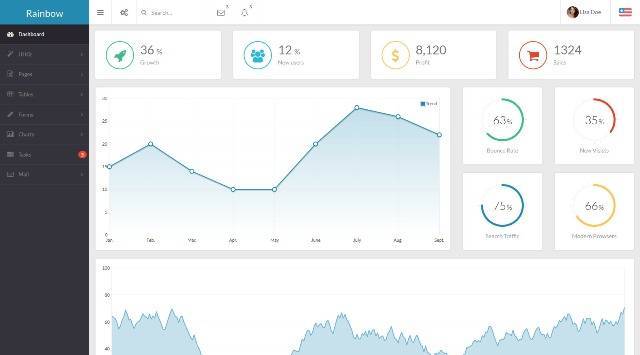 Demo / Download
"Rainbow" is a fully responsive multi-layout admin App built with Bootstrap and AngularJS. It use Sass CSS which makes it easy to modify. Features are Responsive Design, Multiple Layouts, Build with Sass CSS, Multiple page transitions, Light Weight, Built with Bootstrap 3, Valid HTML5 and CSS3, Cross Browsers and much more.
mAdmin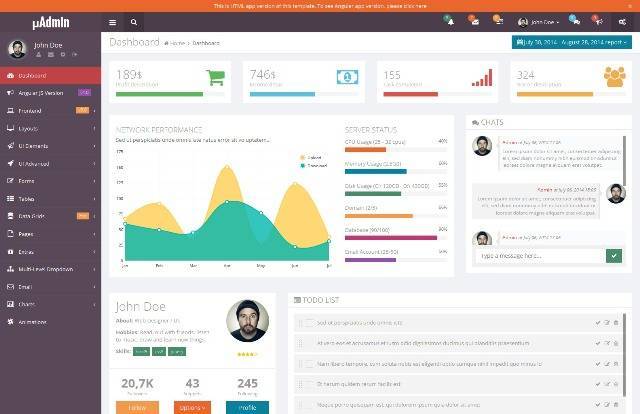 Demo / Download
mAdmin built on Bootstrap 3.2 Framework with full responsive technique. It's a multiform template with many style and many color themes, so you can use mAdmin for many types of web applications like custom admin panel, admin dashboard, application backend, etc.
Smart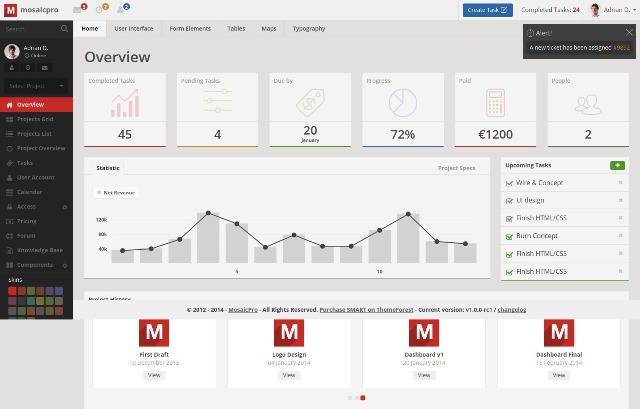 Demo / Download
Features are Fully Responsive Layout, 1600+ Font Icons, Collapsible Sidebar Menu, AJAX & Non-Ajax Included, PHP version included with menu builder, File Manager, User Interface Elements( Buttons, Alerts, Labels, Progress Bars, Pagination, Ribbons…etc), Various Tabs / Wizards, Ton of Form Elements and examples (eg. Modals with forms/tabs in them), Guides and Documentation, Pricing Tables, PACE Preloader, LESS files Included, Built on the latest Twitter Bootstrap 3.1 version and much more.
Last modified: August 22, 2015